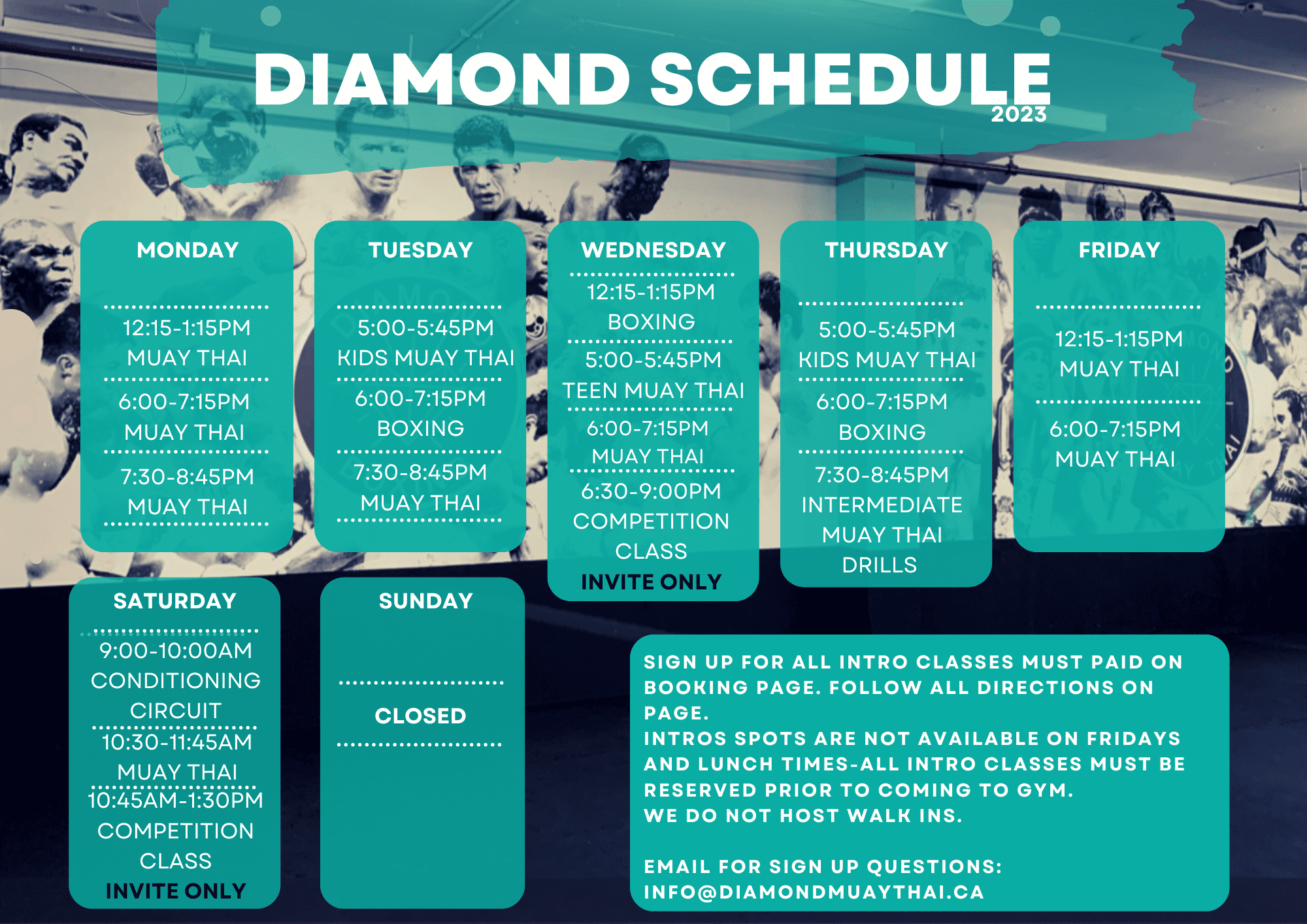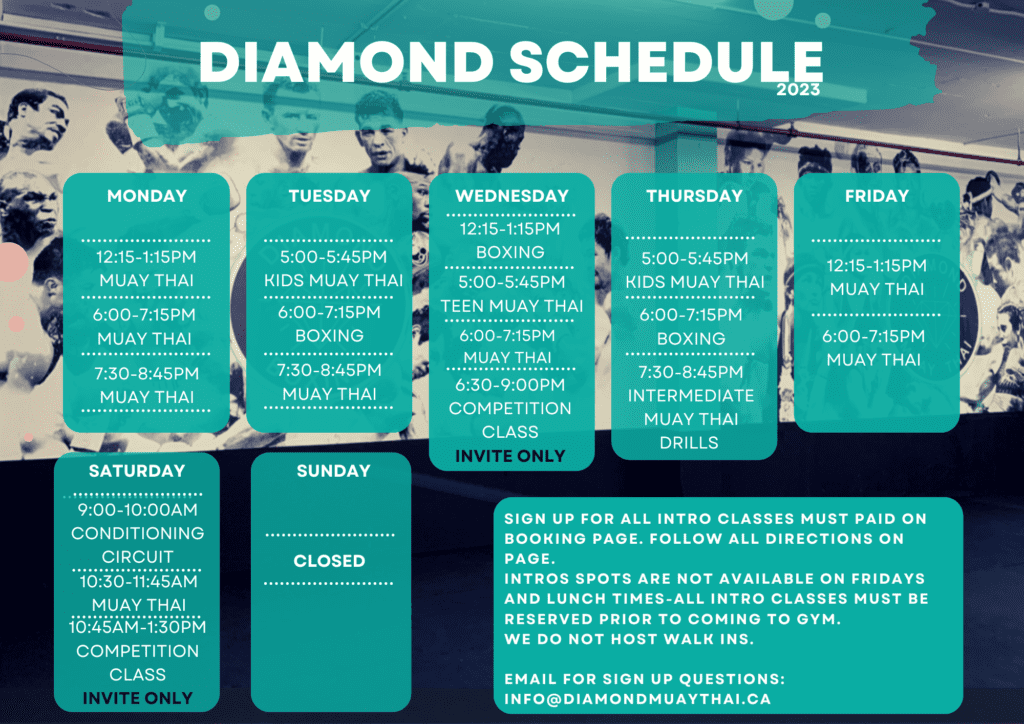 Muay Thai beginner classes: what to expect from your first Muay Thai class

Muay thai classes and boxing classes are a fun way to get fit, reduce stress, and boost confidence–all while learning a new skill. If you're considering trying your first Muay Thai or boxing class, you came to the right place!
Diamond Muay Thai + Boxing gym offers authentic, beginner-friendly Muay Thai and boxing classes in Toronto's Leslieville six days a week (see class schedule below), and you can try your first class for $25.00+hst.
YOUTH MUAY THAI AGES 7- 12
TEEN MUAY THAI AGES 12-16
At Diamond, we understand that attending your first Muay Thai or boxing class can be intimidating (don't worry, the first day jitters are normal!). So we created this guide to help you feel more prepared. Read on to learn what to to expect from your first Muay Thai or boxing class at Diamond.
Step 1: Book your first class online. This is mandatory as class space is limited, and so we know to expect you. If you need help booking your first class, give us a call.
Step 2: Pack your gym bag. Come prepared to sweat! You will need:
Gym clothes. Any light gym clothes will do for your first class. We encourage regular members to wear Muay Thai shorts (though this is not mandatory).

A water bottle. We also have drinks for purchase (cash only).

A towel to pat down between rounds (optional).

Training is done barefoot; however, boxing shoes are optional for boxing classes.

Boxing gloves (optional for first class). We have community gloves you can borrow for your first class.
Hand wraps (optional for first class). Hand wraps are worn to protect and support your hands and wrists; however, they are optional for your first class. We have hand wraps for purchase (talk to front desk), and will teach you how to wrap them.
Step 3: Arrive 10 minutes early. This will give you enough time to check in, sign a waiver, get a gym tour, and change for class. Enter through the main door where you will be greeted with a smile at the front desk. There are separate women's and men's change rooms, two washrooms, and a shower for after class.
Step 4: Once you are changed, head to the mats to meet your instructor. They will be happy to answer any questions and help you get started.
Step 5: Enjoy your first class! Remember, learning any new skill takes time, patience, and practice. Muay Thai and boxing are no exception. Keep an open mind, a positive attitude, and ask for help and feedback when you need it.
Evening classes at Diamond run for about 1 hour and 15 minutes, while lunch classes are about 1 hour (full schedule below). Here's the breakdown of a typical class at Diamond:
Warm up (15 min.)

: Each class starts with jump rope and/or shadow boxing for warm up. If you are a beginner, an instructor will guide you through all the basic movements.

Pad/bag drills (45 min.): Warm up is followed by four to five rounds of high-intensity technical Muay Thai or boxing drills. We may have you work on the bag for your first class, so we can give you more attention and tailor your class to your experience. Once you nail the basics, we introduce you to hitting and holding Muay Thai pads or boxing mitts with an assigned partner. More experienced first-timers are welcome to join the pad class on their first day. Let us know your skill and comfort level when you arrive.
Conditioning (15 min.)

: Class will end with a series of strength and conditioning exercises (bodyweight or light equipment).
After class ends and equipment is cleaned and put away, you are welcome to stretch and ask your instructor questions. Be sure to check in with the front desk before heading out, so we can learn how you enjoyed your first class and answer any questions.
We hope you have a great first class and fall in love with Muay Thai and boxing!
Ready To Book Your First Class?
We look forward to seeing you on the mats.