Welcome to Diamond Muay Thai + Boxing Toronto – a place where fitness meets sport and inspiration.
Discover a new world of excitement beyond the typical fitness routine.
Join our vibrant community and redefine your limits through the art of Muay Thai and Boxing.
Get fit, gain confidence, and find your passion. 💪🌟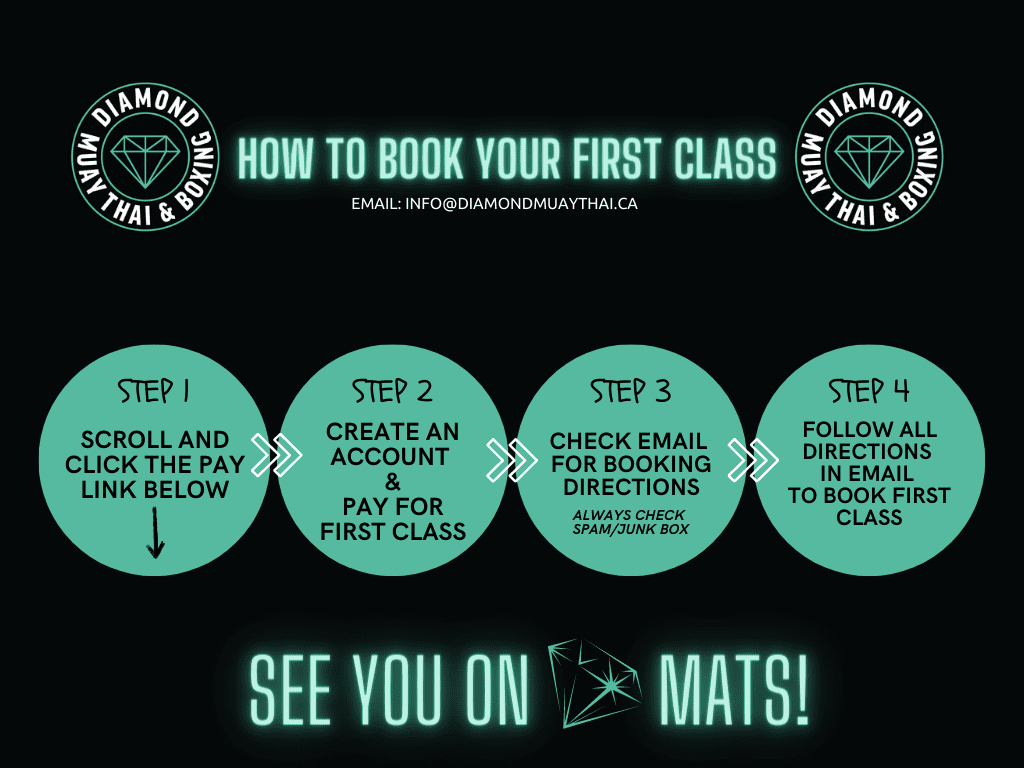 How to book your first class (PLEASE READ):
Welcome to Diamond Muay Thai + Boxing Toronto!
We're excited for you to join us and have an amazing experience.
Here's everything you need to know:
1. Making an appointment: To ensure a great experience, please make an appointment before coming to our facility. We kindly request that you respect our policies and don't show up for class without a confirmed appointment.
2. First class details: For your first class, the cost is $25.00 plus tax. Don't worry if you've never trained in Muay Thai before – beginners are absolutely welcome! Follow the steps on the Pay Page to get started.
3. Booking your first class: After payment, you'll receive an email with instructions on how to book your first class. Sometimes, this email might go to your spam folder, so remember to check there too. To book your first class, simply click the 'BOOK HERE' button below.
4. Learn more: If you want to get more information about what to expect in your first Muay Thai and boxing class, make sure to check out our guide. It will answer any questions you might have.
5. Need to chat? If you have any further questions or concerns, feel free to reach out to us via email at info@diamondmuaythai.ca. We're here to help!
We look forward to seeing you soon and starting this exciting journey together!
Let's get ready to have a blast while learning Muay Thai and boxing techniques. 🥊
LEARN AUTHENTIC MUAY THAI AT DIAMOND MUAY THAI GYM IN TORONTO
Diamond Muay Thai is a top-rated Muay Thai gym in Toronto. We offer beginner-friendly to advanced competition Muay Thai classes and boxing classes six days a week in the heart of Leslieville. Get fit and de-stress while learning authentic Muay Thai and boxing from passionate and experienced instructors.
The benefits of learning Muay Thai and boxing at Diamond Muay Thai include:
Improve overall fitness (strength, agility, endurance, and more).
Melt stress and boost confidence.
Build mental toughness, resilience, and discipline.
Get fit while having fun and learning a new skill (say goodbye to that boring treadmill or humdrum fitness routine).
Join a community of down-to-earth individuals from all walks of life who share a passion for Muay Thai, boxing, and combat sports.
If you're interested in trying a class at our Muay Thai gym, check out our first class guide and schedule and book your first class. We look forward to seeing you on the mats!
⬇️GET CLASS TIMES + FIRST CLASS INFO⬇️
📢 ATTENTION 📢
ALWAYS CHECK YOUR SPAM/JUNK BOX FOR BOOKING EMAIL
Don't take our word for it. Read what the Diamond Muay Thai gym community is saying...
"Easily one of the best Muay Thai and boxing gyms in the Toronto. The staff are friendly, the facility is clean and spacious, and the overall vibe of the gym is motivating and welcoming. Great for beginners who want to try the sport for the first time, and for experienced fighters who want to level up. There are no egos here, just a great gym atmosphere and awesome people."Jessica Chin
"Excellent Gym and atmosphere 🙂 Tony and everyone is super friendly! I enjoyed every session since I signed up 8 months ago. Tony always throws in challenges to help you improve and push your limit. I can completely be myself here!"Christy Ma
"Diamond Muay Thai + Boxing has a strong, supportive community with a dedicated, talented team leading the gym. I love seeing the diversity in ages and backgrounds on the mats - all helping and pushing each other! This is an exceptional place for children to learn and grow!"Jennifer Long
READY TO BOOK YOUR FIRST CLASS?
We look forward to seeing you on the mats.